O
n Thursday, I was on the phone with a guy in California, when he suddenly starts shouting, "Hang on, hang on! I think we just had an earthquake!" and throws down the phone. Turns out he's right:
Magnitude 4.1 San Francisco Bay Area, CA January 07, 2010
. I felt my own pulse quicken, and I was 300 miles away.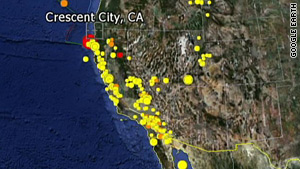 Now the news is all abuzz about
another 6.5 magnitude earthquake
in California on Saturday. In fact, the hits just keep on coming: 4.5, 4.2.
Time
Magnitude
Location
13 minutes ago
4.2
Offshore Northern California
Map
59 minutes ago
4.5
Offshore Northern California
Map
2 hours ago
6.5
Offshore Northern California
Map
Now I know one reason why we don't live there anymore. We always joked about "the Big One" and how we should buy future beach-front property in Arizona.
It seems something is always moving somewhere in the world. Check out these fault lines and recent earthquakes map.